For the past 20 years, PCB Trace Technologies has been supplying custom high-quality printed circuit boards to the medical industry for their devices. We consistently ensure that each board we deliver meets the highest quality standards as the medical community expects. We maintain the highest quality assurance standards not only around specialty materials but also for cleanliness and stringent manufacturing processes while offering support for a number of product types.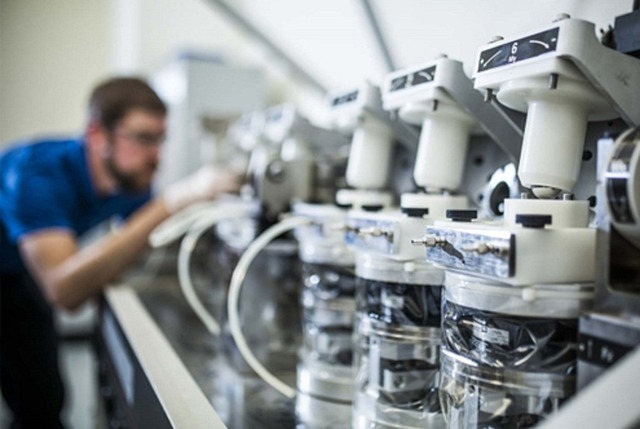 Furthermore, we design printed circuit boards for medical devices with a goal specifically to meet the needs for medical instrumentation, a wide range of lab settings, care settings, and testing scenarios. Our primary focus for PCB fabrication for medical instrumentation is always on precision, with an ultimate aim at customer delight.
For any requirement of PCBs for the medical industry, contact us to find out more about their applications and challenges. You will also learn more about considerations for the core factors necessary when designing medical grade boards and how PCB Trace Technologies Inc can help you.
Medical Industry PCB Challenges
PCBs meant for the medical industry must comply with certain requirements for ensuring they will deliver the intended performance. Some challenges that we ensure when supplying medical PCBs are they meet necessary compliance, form factor, and reliability standards. Some primary challenges we address with our medical PCBs are as follows:
Compliance
The major challenge we meet when supplying PCBs for medical devices is to manufacture boards conforming to Class III requirements. Typically, medical equipment and devices fall under this class, and we have the necessary expertise in producing electronic boards complying with Class III requirements. For this, we keep detailed and extensive records and offer lot tracking as an important requirement. We also adhere to and comply with installation, operation, and process qualification standards.
Form Factor
The medical industry, just like other electronic industries, is continuously looking for equipment and devices with increasingly smaller form factors. That means the medical PCBs we have to supply must also have equally smaller form factors to fit inside the small enclosures. We have the necessary technology and expertise to manufacture tiny high-density PCBs while providing high-quality performance.
Reliability
The medical industry typically uses medical equipment for life-saving purposes. Consequently, each part going into such medical equipment must be highly reliable. Most often, medical devices must withstand extreme temperatures, liquid chemicals, shock, and vibrations. Therefore, we manufacture PCBs for the medical industry that work satisfactorily in all types of potentially dangerous environments while delivering exemplarily reliable performance.
Designing Medical Grade PCBs
Medical equipment and devices require the right PCB materials to meet their stringent specifications. At PCB Trace, we offer several options that you can consider for your benefit. We help you to select the best material to optimally meet the right specifications for your medical device so that it can deliver the best performance possible. Listed below are some types of special PCBs we offer for the medical industry:
Flexible Polyimide PCBs
Many medical devices require flexible PCBs to fit into tight spaces because of their small form factors. Some medical devices are nowadays wearable type and need to be flexible to match the body part over which the patient must wear them. The flexible PCBs we offer make them a superb option. When you need a medical device that must fold and wrap, use our flexible PCBs.
Polyimide is an excellent base material for medical PCBs, as it has superb flexibility and tensile strength, besides being highly durable. Polyimide is also highly resistant to chemicals and thermally stable, making it perfectly suitable for medical devices like implants and prosthetics.
Flexible Metal Clad PCBs
Although flexible polyimide PCBs are suitable for many types of medical equipment, some devices work at high power, and require a more powerful board to handle them. Flexible metal-clad PCBs from PCB Trace are the perfect solution for such high-power applications, as they have excellent heat management capabilities. Applications of such metal-clad flexible boards include surgical lighting and scanning.
HDI Microcircuits
We also make special types of flexible circuits that have minimal form factors. These are our HDI or High-Density Interconnect microcircuits. Featuring great performance even at such small form factors, HDI microcircuits are suitable for tiny medical devices such as hearing aids, wearables, and industrial sensors.
Ceramic PCBs
At PCB Trace, we offer ceramic PCBs for medical devices requiring circuits with high thermal conductivity and a low coefficient of thermal expansion. The major advantage of ceramic PCBs is they can operate at extremely high temperatures. They can also provide superb high-frequency performance. In addition to high resistance to tough chemicals, our ceramic PCBs offer very high component density.
Rigid-Flex PCBs
Some medical instruments require flexible wearable parts linked to control or display panels. While the control and display panels require rigid boards, the wearable parts need flexible circuit boards. For such combined medical instruments, PCB Trace offers rigid-flex boards. These circuit boards combine the benefits of rigid boards and flexible boards. The flexible material sits in between rigid layers, while copper conductors and plated through vias link the various layers. Being more durable than flex boards, rigid-flex boards are lighter and of smaller form factor than rigid boards are, and therefore, present a greater versatility for design.
PCB Trace Capabilities
At PCB Trace, we help medical instrumentation OEMs, their designers, and engineers with complete support for medical PCB design and fabrication that brings our customers' PCBs to life. We effectively apply our capabilities of high-density interconnect and high-frequency circuit boards to medical devices.
Talk to our experts today to learn more about our capabilities and how we can help you go from concept to market. Some of our capabilities are as follows:
Prototyping
We help customers establish a new product or a design revision by providing them with PCB prototypes. With these, our customers can test their concepts and design their boards optimally, before going into production.
Engineering Support
At PCB Trace, we have experienced engineers who provide engineering support services to our customers. They offer consultations to ensure the PCB specifications will fit the customer's application and budget.
Included in our engineering support are services like:
DRC or Design Rule Check
DFM or Design for Manufacturability
Stackup Design
Surface Finish Options
Selection of Raw Materials and Laminates
Cost Consultancy
With the above services, PCB Trace engineers assist our customers in crafting their PCBs so that they meet both the quality and financial requirements.
PCB Fabrication
Apart from the engineering support and prototyping service we provide to our customers, we also fabricate the PCBs for them. Although the PCB manufacturing process is long and complicated, our state-of-the-art, mechanized PCB fabrication facilities are capable of providing high-quality products for our customers at affordable rates. We always produce the boards effectively, irrespective of its type, complexity, and the technology it involves.
Lifecycle Support
Your board may have passed through our engineering processes, and we may have fabricated the board for you to your satisfaction. However, our involvement with your PCB does not end there. Even when your board has reached the market, PCB Trace continues to assist you through the entire lifecycle of your board. We always have your back if your PCB has an issue or needs analysis after you have completed a sale.
Typically, we apply several quality assurance measures to any PCB we sell, to minimize any risk of issues related to the PCB in the future. PCB Trace manages customer revisions to any PCB, so our customers do not have to do so.
Get a free Quick Quote today — Contact us
Medical PCB Applications
The medical industry has many applications. Therefore, it is customary to find various types of PCBs in different applications of medical instrumentation. If you are involved in the medical field, PCB Trace offers PCBs for applications listed below:
Ultra-HDI circuit boards and cables
Wearable medical devices
Electrical muscle stimulation equipment
Imaging equipment
Body temperature monitors
Flow-rate and dispensing systems
Ultrasound equipment
Flex and rigid-flex interconnects
Digital X-ray equipment
Monitoring devices
Blood glucose monitors
Blood pressure monitors
Response neutrostimulators
Infusion fluid controls
X-ray computed tomography
Dental equipment
Magnetic resonance imaging equipment
2-D and 3-D sensors
Imaging devices
Smartphones and tablets for mobile health applications
Cochlear implants
Diagnostic devices
You can safely choose PCB Trace for any circuit board fabrication for your medical device.
We offer unprecedented flexibility and superb services for any medical equipment PCB. We do not consider any order too small. You can safely begin your concept with our prototyping service. No order is too large for us, and we will certainly help you bring your concept to the market as quickly as possible. Our full engineering support will bring your medical device PCB fabrication to a fruitful finish in the most cost-effective manner.
Contact us today for a fast quote.