Complex circuit production, with rigid-flex circuit boards from PCB Trace Technologies Inc. offer amazing flexibility, both in terms of circuit design and implementation. Designers can achieve complex functionalities when they combine rigid and flexible parts in the same board. Designing with rigid-flex boards is a completely new technology in the electronics industry. The major advantage of rigid-flex boards is the developer can twist and fold them to achieve the necessary shape depending on requirements.
The development of rigid-flex boards requires a 3-D environment. However, as the boards consist of hard and inflexible parts along with flexible parts, small and compact devices such as wearable, digital books, and handheld phones cannot use them. For instance, cell phone manufacturers are on the path of development of flexible phones that users can fold, roll, and twist—these require only flexible circuits rather than rigid-flex. Moreover, electronics for such flexible products needs to be shockproof, and rigid-flex circuit boards cannot ensure that.
Why Combine Rigid and Flexible Circuits?
Many applications require functionalities that the regular rigid PCB cannot provide. Most designers use rigid boards for ensuring the maximum functionality from sensitive hardware. The rigidity of a board offers strength and stability for sensitive circuits. However, these simple boards cannot offer the additional functionality that a combination of rigid and flexible circuits does.
So far, aerospace, military, the automobile industry, and others have been totally reliant on the regular rigid printed circuit boards. With advancement in technology, they now prefer to use rigid-flex circuit boards, as these are turning out to be more reliable and durable while offering a high quality of performance.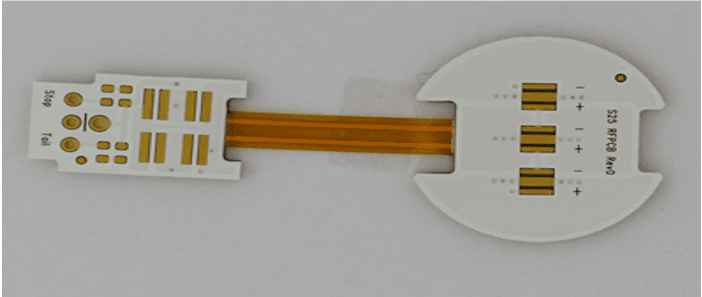 Difference Between Rigid-Flex and Rigid boards
Rigid-flex PCBs incorporate both rigid and flexible parts, whereas only rigid parts make rigid boards—they have no flexible part. In rigid-flex PCBs, the designer uses through holes for providing electrical connection between copper layers in the flexible and rigid parts.
With the trend towards reducing physical dimensions in most electronic gadgets, designers need to increase component density and robustness of their printed circuit boards. This is where the rigid-flex boards offer their maximum versatility. The rigid portion of the board offers rigidity just where the device requires it, such as for component mounting. Other areas, such as corners and bends, where the board is frequently subject to vibrations, making the board flexible offers the maximum advantages. Flexible part of the circuit board is also most suitable where the connections must pass through mechanically sensitive locations.
Manufacturing rigid-flex circuit boards requires procedures different from those necessary for fabricating routine rigid boards. Some sensitive areas need more attention while manufacturing.
For instance, while etching the copper foil during manufacturing, the flexible Polyimide core may shrink. As such shrinking can deviate the final dimension of the board from the specifications, the designer must compensate for such variations while designing the board.
Rigid-Flex PCB Applications
The low weight, flexibility, reliability, and low space requirements of rigid-flex PCBs makes them suitable for use in medical equipment such as in pacemakers.
Cameras and other compact electronic devices benefit from the space-saving and weight budget of rigid-flex boards. Most modern compact devices owe their reduced size to the flexibility of rigid-flex circuit boards.
The military uses rigid-flex circuits for the same reasons for their weapons. Rigid-flex PCBs offer exceptional performance which adds to the robustness and efficient performance of military equipment. The military can manufacture complicated and more advanced weapons taking advantage of the reduced weight of the overall product by using rigid-flex PCBs.
Computer systems and related devices such as printers, keyboards, and hard disk drives also use rigid-flex boards. Rigid-flex boards provide the necessary vibration resistance, folding, bending, and twisting features while designing the equipment as mechanically robust. Using wires and cables for routing signals through 3-D space is far less efficient as compared to using rigid-flex boards for the same purpose.
Consumer electronics products rely on rigid-flex boards for not only maximizing space and weight, but also for improving the reliability. By eliminating many solder joints and fragile wiring prone to human error and connection issues, rigid-flex boards improve their reliability significantly.
The above are only a few of the benefits of using rigid-flex boards. In fact, the use of rigid-flex boards benefits nearly all advanced electronic equipment. This includes automobiles, tools, testing equipment, and more.
Rigid-Flex PCB Manufacturing at PCB Trace Technologies Inc.
Being one of the leading manufacturers of rigid-flex PCBs, PCB Trace Technologies Inc. offers exclusive manufacturing services for diverse set of industries. With rigid-flex manufacturing, our brand is an image for the shortest lead times and premium quality. Where all other manufacturers of rigid-flex PCBs offer limited design procedures and facilities for testing, PCB Trace Technologies Inc. offers a complete range of solutions for our customers.
Our make of rigid-flex PCBs is the top product we manufacture and offer our customers. Our top-of-the-line machinery and processes are fully automated, ensuring the quality and durability of our products throughout its life, while making it the most cost-effective in the market.
We also make multi-layer rigid-flex circuit boards. We ensure all our manufactured boards comply with international standards, meet our customer requirements and serve proper functionality while optimizing the cost according to our customer's budget.
With two decades of experience behind us, we regularly upgrade our manufacturing technology, processes, and systems. This is how we ensure we can make the most complex rigid-flex PCBs for our customers. We invest in the latest machines and train our engineers in the process of manufacturing complex PCBs that meet customer requirements accurately. We are the only PCB manufacturing facility to make single-layered rigid-flex PCBs with up to 6 layers, and double-layered rigid-flex PCBs with up to 16 layers.
Making rigid-flex PCBs requires great care, patience, proper procedures, and is a delicate endeavor. Therefore, customers always prefer an experienced and reliable manufacturer for their products. Customers rely on PCB Trace Technologies Inc. as one of the manufacturers providing both substantial experience and reliability for manufacturing rigid-flex PCBs. Although we began with traditional methods, we upgraded our processes with extensive research we conducted in our R&D labs. This has not only helped us to improve our manufacturing technology and processes, but also allows us to always deliver high-quality products.
For anyone looking for rigid-flex circuit boards that involve 3-D connections in design, we can offer the best from our rigid-flex manufacturing units. We develop all types of 3-D connected rigid-flex circuits to meet customer expectations, and we always ensure the product complies with all your requirements.
Although we manufacture a large variety of rigid-flex PCBs, that is not the only thing we are known for. PCB Trace Technologies Inc. focuses on testing of manufactured PCBs also, as we have developed innovative testing procedures. Our processes can trace all types of faults and flaws in the PCB and in the design. We test each PCB to ensure it meets the necessary specifications.